Top 6 Indian Desserts You Can Make Using Mapro Pra
Indian desserts are known for their vibrant flavours and aromatic spices. Did you know you could take the dessert experience up several notches by including fruity preserves and premium sharbats in the recipe? Whether it's the floral notes of rose sharbat, the richness of fruit preserves, or the refreshing fragrance of khus sharbat, these sweet condiments bring an extra layer of flavour and indulgence to classic Indian desserts. In this blog, we will explore a variety of Indian dessert recipes that showcase the versatility of sharbats, from creamy kulfis to buttery barfis and a lot more. So, sit back, relax, and indulge in the rich and aromatic world of Indian desserts with these delicious recipes.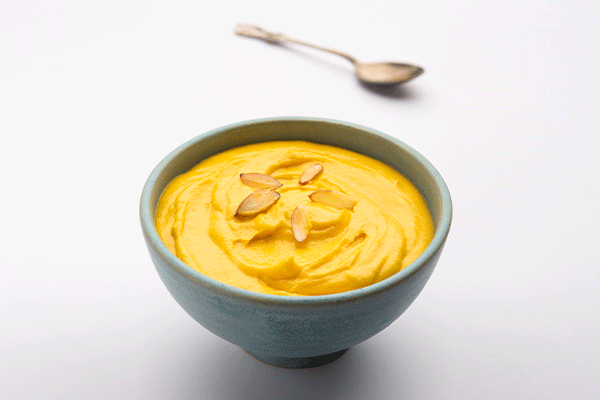 Strawberry Halwa: Strawberry halwa is a sweet and creamy dessert that is made with strawberry preserve, milk, and Rava (semolina). To make it, roast ½ cup semolina (Rava) in a kadhai, water, and a little milk along with strawberry preserve in a kadhai and stir until it thickens and becomes creamy. You can also add a pinch of saffron or a sprinkle of nuts for extra flavour. Try this with mango preserve to make Mango halwa!
Mango-Badam Barfi: In a kadhai, combine 1 cup of milk, 1/2 cup of mango preserve and a pinch of ground cardamom. Cook the mixture over medium heat, stirring constantly until the preserve has melted, and the mixture has thickened. Remove the pan from the heat and stir in 1 cup of ground almonds. Pour the mixture into a square baking dish and refrigerate until firm. Cut the barfi into small squares and serve.
Mango Kulfi: In a blender, combine 1 cup of mango preserve, 1/2 cup of Kesar sharbat, 1/4 cup of sweetened condensed milk, and 1 cup of heavy cream – Adjust sweetness according to your taste. Blend until smooth and creamy. Pour the mixture into a loaf pan or small containers and freeze until firm. You can replace the Kesar sharbat with thandai sharbat to make Thandai-Mango Kulfi too!
Mango Mastani: Blend mango preserve and milk as per your taste into a thick milkshake and pour into a milkshake glass with some room on the top of the glass. Place one or two scoops of vanilla or mango ice cream, top it with nuts of your choice and serve! 
Rose and Pistachio Ladoo: Blend 1 cup of pistachios in a blender until they are finely ground. In a small kadhai, combine the ground pistachios and 1/2 cup of water. Cook the mixture over medium heat, stirring constantly until the mixture comes together in a ball. Remove the kadhai from the heat and stir in 2 tbsp of rose sharbat and a pinch of cardamom. Allow the mixture to cool slightly. Take a spoonful of the mixture and shape it like a ball. Repeat with the remaining mixture.
Rose Phirni: Wash 2-3 tbsp of basmati rice and blend it coarsely in a blender and set aside. In a pan, boil ½ litre of milk and once it boils, add the rice to it and allow to cook. Once the rice is tender, add 2-3 tbsp of rose sharbat and mix. You can add chopped nuts of your choice and raisins. After it has been cooked, serve it after it is cooled. 
Shrikhand with fruit preserves (Amrakhand & Strawberry Shrikhand): In a bowl, combine 1 cup of plain yoghurt, 1/2 cup of mango preserve and a pinch of ground cardamom. Bring the mixture to a smooth and creamy consistency by beating well. Serve the shrikhand chilled, garnished with a sprinkle of ground pistachios. For strawberry shrikhand, use ½ cup of strawberry preserve instead.Now that you have the recipes at hand, we know you are wondering where to find the fruit preserves and sharbats that have natural ingredients in them, right? Your answer lies in Mapro Pra's range of fruit preserves and sharbats. Choose from their mango/strawberry preserves made with 100% natural fruit and no added sugar or their range of sharbats such as Khus sharbat, Thandai sharbat, Rose sharbat, and Kesar Sharbat to come up with decadent desserts that will leave your family and friends spellbound.
Did you make this recipe?
Share a photo and tag us @maprofoods and get featured!